Elvis Tribute
"We want Elvis… We want Elvis… We want Elvis… We want Elvis… We want Elvis… We want Elvis… We want Elvis… We want Elvis…… "
This is a show built around the hysteria that the King himself created. From Hound Dog to Suspicious Minds, with a vocal recreation of Elvis' songs that is simply astounding, audiences all over the UK have been captivated by this amazing tribute time and time again.
Bookings are available for Pubs, Clubs, Theatres, Birthday Parties, Wedding Receptions, Christmas and New Year parties, Corporate Conventions and most social venues.
There was only one Elvis Presley. But for just one hip swivelling moment, it sure is fun to pretend otherwise!
(Association of Professional Elvis Presley Tribute Artists)
European Championships Finalist (Blackpool) 2007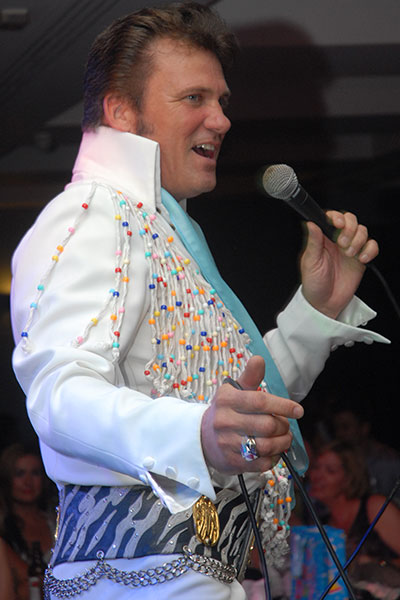 Natalie
Natalie is a full-time professional singer perfect for any venue or function thanks to her versatile voice and a wide repertoire of songs.
Natalie trained professionally as a performer in both London and the United States and toured UK-wide with various shows and theatre companies, and then later as part of a vocal duo, before striking out on her own to become a solo singer. An accomplished performer, she sings rock, pop, soul, jazz, show tunes and classical music with equal proficiency.
Natalie is a completely self-contained act, providing her own PA system, sound engineer and lighting (if required) and is covered by Public Liability Insurance to the value of £10 million.
She generally works with high-quality backing tracks but can perform with a guitarist or full band on request.
They Can't Take That Away From Me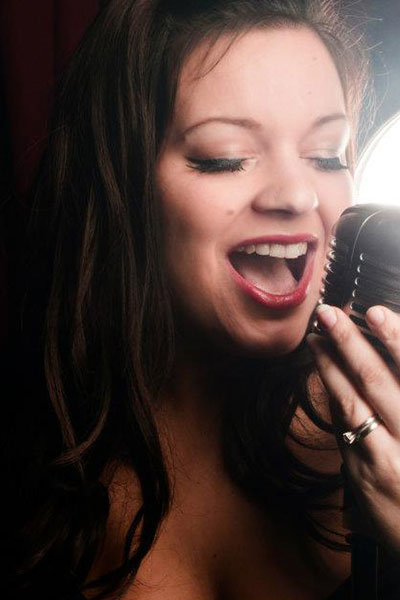 Big Band / Swing
Our Big Band is a fifteen piece Swing Band consisting of five saxophones, four trumpets, piano, bass, drums and three vocalists.
Male vocals are drawn from the libraries of Frank Sinatra, Tony Bennett, Michael Bublé, Bobby Darren, Dean Martin and Matt Monro to name but a few and from our female vocalist comes a range of songs from Ella Fitzgerald, Billie Holliday, Shirley Bassey and many other greats.
The Big Band, along with the fabulous Vocal Group, produces a wonderfully rich sound as it recreates the music from the Big Band years.
The Big Band's programme can be tailored to suit individual requirements ranging from a Wedding, a Theatre Show, an Outdoor Festival, Corporate Event, Dinner Dance and Parties of all descriptions when the band switches into party mode with a selection of hits from the 1940's, 50's, 60's, 70's and 80's.
Don't Sit Under The Apple Tree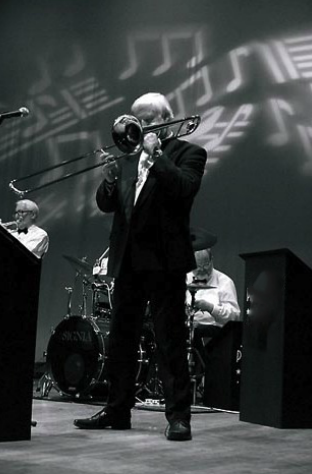 Paula
Vintage style singer Paula has been a professional entertainer for well over a decade. Starting out at the tender age of 18 in the year 2000, this talented vocalist began wowing audiences all over the UK with her rich, expressive voice and bubbly personality.
From a young age, Paula just wanted to sing and entertain. She began music lessons on the electronic organ at the age of 10 and was soon playing many of the golden hits of yesteryear in a variety of styles such as jazz, swing, Latin and easy listening. Her passion for singing started soon afterwards, and she began formal singing lessons at the age of 14.
Her love of vintage vocalists began in her early teens after coming across the Doris Day classic 'Calamity Jane' on TV one day. She was immediately taken by the warm, golden voice of Doris Day, with her stellar performance of classics like 'Secret Love' and 'The Black Hills Of Dakota'. Spellbound, she had to hear more and began collecting various Doris Day CD's, listening intently to her phrasing and truly heartfelt delivery. From here, she also discovered the films of Judy Garland and was equally enthralled by her voice. This led on to discovering other great vocalists of the era including Ella Fitzgerald, Billie Holiday, Frank Sinatra and Bing Crosby to name but a few, swing music then became another favourite, along with 007 songs.
I'm Beginning To See The Light